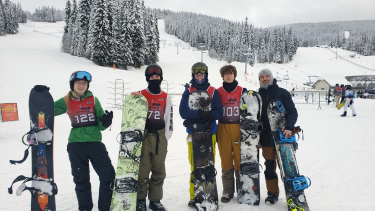 Ski and Snowboard Team Thrives in Community
March 7, 2023
- A huge thanks to Salmo!
The Salmo Secondary Ski and Snowboard team competed at the East/West Kootenay Zone Championships in Golden BC on Feb 8th to 10th. The Boys' Snowboard team placed 3rd overall and qualified for the B.C. Highschool Provincial Skiing and Snowboarding Championships at Sun Peaks Resort north of Kamloops that was held February 27 through March 1.  
The Ski/Snowboard program is a grassroots program that speaks to the community's involvement in our local Salmo Ski Hill. Many of the team members grew up skiing in Salmo and have been supported by community volunteer coaches along the way.  
The team would like to thank their Salmo Secondary school coach and teacher, Charles Messinger as well as SD8 for their financial support which allowed the students to travel to Sun Peaks for Provincials.  
We are still waiting for officials results from the Provincial Championships which occurred earlier this week and will update this article as soon as they're confirmed. 
The school and community are very proud of our entire team.
Photo L to R: Competitors Edwin Ludwar, Rein Reimer, Anson Beach, Lucas Yockey; Coach Charles Messinger