Student & Parent Rights and Responsibilities
Discipline Procedures and Practices
Application
Salmo Secondary School (SSS) and School District 8's (Kootenay Lake) code of conduct and rules apply at all times when students are under school supervision or attending school functions whether on or off school property, and whether in or out of school time. This includes lunch break and travelling to and from school, as well as field trips where inappropriate behavior can harm our school's reputation.
The code of conduct describes school expectations and acceptable student behavior as directed by the School Act 85(2)(c)(i). It is derived from the Ministry of Education's goal for Human and Social development, and is designed to promote a safe, caring and orderly school for the purpose of learning.
Salmo Secondary School supports the values expressed in the BC Human Rights Code respecting the rights of all individuals in accordance with the law – prohibiting discrimination based on race, color, ancestry, place of origin, religion, marital status, family status, physical or mental disability, sex or sexual orientation.
Our Belief System
We believe that all members of our school have the right to learn, be safe and respected, and to be treated with kindness.  Our discipline model is based around the rights and responsibilities of our students.
Our Motto:
Be Kind – Be Safe – Be Respectful – Be a Learner"
Application of the School Code of Conduct:
All of the following expectations apply to behavior in all school learning spaces, during school- organized or sponsored activities, as well beyond the school and online if it impacts the safe, caring or orderly environment of the school and/or student learning.
Rising expectations:
As students move from grade to grade it is expected that they have increasing personal responsibility and self-discipline.
Consequences & Interventions:
School staff will consider the severity and frequency of unacceptable conduct of the student in determining disciplinary action.
Consequences & interventions will be applied in a fair and consistent manner, respecting individual rights, responsibilities, age, maturity, and any special considerations that apply to the student regarding special needs if he/she is unable to comply due to having an intellectual, physical, sensory, emotional or behavioral disability.
Disciplinary action will focus on corrective rather than punitive measures and on the individual taking ownership of mistakes.
The school will treat seriously behavior or communication that discriminates based on race, color, ancestry, place of origin, religion, marital status, family status, physical or mental disability, sex or sexual orientation (prohibited grounds set out in the BC Human Rights Code).
Students, as often as possible, are encouraged to participate in the development of meaningful consequences for violations of the established code of conduct.
Potential consequences & interventions include:
Conversation with student
Clarity of Code of Conduct and expectations for behavior that is kind, safe, respectful, and supports learning
Supervised time in order to fix mistake &/or give back to the school/community
Involvement of family (parent/guardian)
Student-involved plan to change behavior
School or community counseling
Conflict resolution meetings
Student-parent/guardian-staff contract to change behavior
Alternate supervised learning space
Partial day school program
Suspension (as per SD8 Policy 300)
Notification:
School staff may, depending on the severity and frequency of unacceptable conduct:
Have students inform parents/guardians directly about instances of unacceptable conduct
Contact and inform parents/guardians directly about a student's unacceptable conduct
Inform the parents/guardians of students who have been the victims of unacceptable conduct
Inform school district officials as required by district policies
Inform the police or other agencies as required by law
Inform staff and the school community as deemed appropriate by the school and/or district administration
---
Consequences & Interventions Framework
Consequences/Interventions for behaviors that are disruptive to a positive learning environment, including, but not limited to:
Lateness
Unexcused absence (skipping)
Teasing
Inappropriate dress
Profanity
Loudness/interruptions
Running in hallways, pushing, throwing objects
Littering
Inappropriate use of technology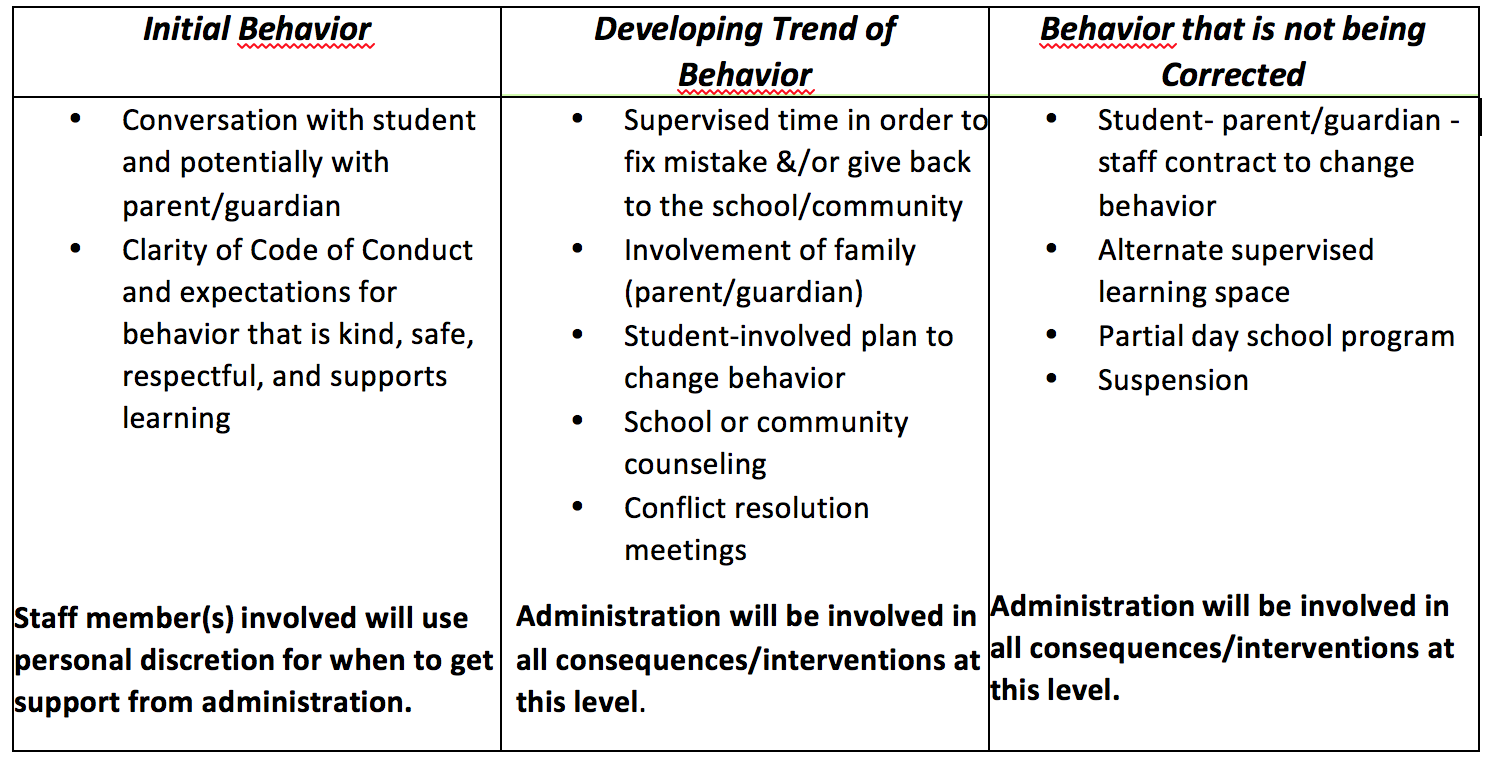 2. The following will involve the administration immediately. This list may not be exhaustive.
Unexcused absence (skipping)
Cheating/plagiarizing
Substance use/possession/trafficking, including tobacco, drugs, and/or alcohol
Defiance
Harassment/Bullying
Property damage/vandalism
Assault/threats of abuse
Theft
Possession of a dangerous weapon or replica
3. Consequences & interventions will include a combination of the following.
Conversation with student
Clarity of Code of Conduct and expectations for behavior that is kind, safe, respectful, and supports learning
Supervised time in order to fix mistake &/or give back to the school/community
Involvement of family (parent/guardian)
Student-involved plan to change behavior
School or community counseling
Conflict resolution meetings
Student-parent/guardian-staff contract to change behavior
Alternate supervised learning space
Partial day school program
Suspension (as per SD8 Policy 300)
---